Yesterday I went to Book-Off (again)!
The best part? I got everything on my list except for two books, with few impulsive purchases.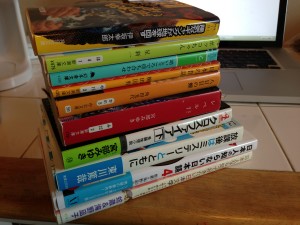 Usually the opposite happens, and all but two purchases are impulsive. I normally have bad luck finding stuff on my list, but I'd rather spend $30 on 10 books at Book-Off than one book at Kinokuniya.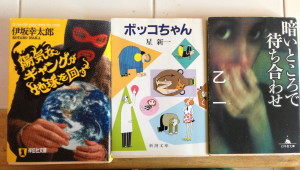 I decided to get 陽気なギャングが地球を回す after seeing the movie. It's about bank robbers with strange powers.
A fellow learner/translator of Japanese named Richard talked about ボッコちゃん in his blog, As The Brush Moves. I haven't read much 星新一 in the past, but I definitely liked what I did read.
Rachel from Is It Possible? shared a link about 暗いところで待ち合わせ on Twitter (If I recall). But that was for the movie (which looks really interesting), and I just happened to see this while in Book-Off, so I figured hey why not?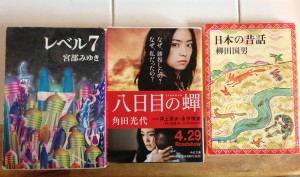 レベル7!My favorite Japanese novel. I read it while at school, but I am definitely re-reading it at some point, so I decided to buy my own copy.
八日目の蝉 is one of my favorite Japanese movies, so this book has been on my list for a long time.
日本の昔話 contains nearly 100 Japanese folktales. I just happened across this one as well.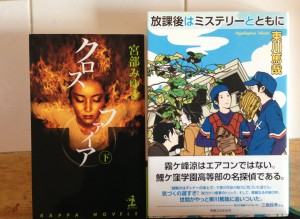 I promised myself I wouldn't start reading クロスファイアuntil I had both parts, and I finally got part two! I actually tried to complete the set a while ago, but I didn't remember whether I had the first or second part so I ended up buying the first part again by mistake. Looking back, common sense should've told me that I purchased part one first… Hm…
放課後はミステリーとおもに is by the same guy who wrote 謎解きはディナーのあとで, so I figured it's a safe choice. I think I'm starting to sense a pattern in his book titles…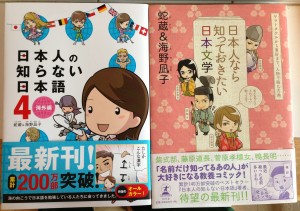 I love this mangaka's stuff. I have the previous three 日本人の知らない日本語 books so I had to get this. 日本人なら知っておきたい日本文学 was an impulsive buy.
And I got 20% off the entire purchase, excluding 日本人の知らない日本語4 which was brand new.
I think I might have a strange sixth sense that tells me when Book Off is having ridiculous sales. Or maybe Book-Off always has ridiculous sales.
Now to read all this stuff…