Thanks for visiting!  I'm Koyami.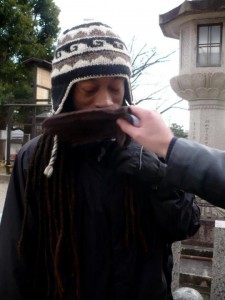 About me
I was born in Brooklyn. I was raised in Brooklyn, Concord, Oberlin, and Kyoto. Now I'm back in Brooklyn.
I grew up wanting to become Wonder Woman's sidekick, a scientist, a web developer, a cameraman, a musician, an engineer, a classical scholar, a Latin-English Translator, a software programmer, and a Japanese-English translator. In that order.
Now I am a freelance Japanese-English translator. I also have experience in transcription, subtitling, and audio/video editing. At the end of the day, translation is the perfect job for me. It allows me to do a lot of things I like (reading Japanese, writing English, learning new things, helping people) at the same time.
My hobbies include reading, juggling, playing piano, volunteering, and card games. I especially like the Italian game Scopa and the Japanese card game Koi Koi.
About the site
I'll start off by saying every opinion expressed on this blog is my own.
This blog is about translation and the Japanese language, but I might write about my other interests from time to time.
This site is not:
a how-to guide for learning languages.
a guide to "mastery" of anything.
a know-it-all "guru" blog.
This site is:
 a journal of mistakes I have made and how I learn from them.
a collection of tips/resources that have worked for me that I think are worth sharing.
filled with opinions about translation and language, specifically Japanese.
a record of significant turning points and realizations, both good and bad, in my journey to become a better person.
a place where I practice translation and writing in both English and Japanese.
I often switch between languages in my posts, since words come out of my head in whatever language they feel like. Those of you just starting (or not interested in learning) Japanese can simply mouse over the Japanese to see an English translation. Example: 日本語
How can I help you out?
Thanks for asking.  Just read a post or two.  If there's something you like, feel free to leave a comment.  I really appreciate each one. And of course, you can always hire me.
If you're looking for other ways to help out, take a look this page: Support The Site