This week, I decided to take a day and visit temples.
I went to Ryoanji, Kitano Tenmangu, Ninnaji, Kinkakuji, and Toji-in.
今週は龍安寺、北野天満宮、仁和寺、金閣寺、等持院に参りました。
This week's photo was taken at Kinkakuji.
以下の写真は金閣寺で撮った。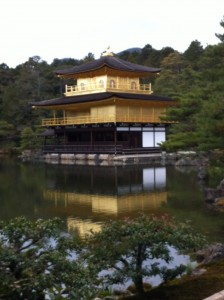 There were a lot of foreigners there, even though it was near Christmas.
クリスマスなのに外人がいっぱいいた。
Is it usually like that?
いつもそうかな。
Most of the other temples were nearly empty.
他のお寺は人があまりなかったけど。
Well, see you next week!
また来週!